Mark Graver Artist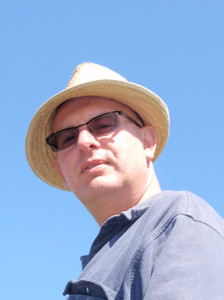 Mark Graver is an award winning artist printmaker, tutor and curator now based in Kerikeri, New Zealand. He established the Wharepuke Print Studio (NZ's only dedicated acrylic resist etching workshop)  in 2005 and, with partner Tania Booth,  Art at Wharepuke  in 2009.  In 2015 they opened the Wharepuke Sculpture Park on the same property
He is s the author of the book Non-Toxic Printmaking  (2011, London, A&C Black) and has sat on printmaking selection panels in China and NZ and curated international print projects in the UK and Australia  such as Parallel Prints 2013/2015, Combinations, UK 2014, RE:Print/RE:Present, UK 2015).
Mark was awarded First Prize at the 2010 Lessedra World Art Print competition in Sofia, Bulgaria. His work is held in public and private collections worldwide including the V&A Museum, London, The Ashmolean Museum, UK, and in China, Malaysia, Taiwan, Mexico, Portugal, Turkey and the James Wallace Trust NZ.
Mark Graver website
C.V
BORN St.Albans, Hertfordshire, England, 1964
Moved to New Zealand 2003, New Zealand Citizenship 2008 
EDUCATION AND TRAINING
1997 -1998   Teacher Training/Btec, Fine Art Professional Development, Kensington and Chelsea, College, London
1994 -1995   M.A.Printmaking, Camberwell College of Arts, London
1985 -1988   B.A (Hons) Fine Art, Leeds Polytechnic, UK
CURATED SHOWS
2015
Parallel Prints NZ/Australia, Art at Wharepuke and Art Gallery of Ballarat, Australia
RE:Print/Re:present – Co-curator exhibition and symposium Anglia Ruskin Gallery, Cambridge School of Art, Cambridge, UK
2014
Combinations – Centre for Contemporary Printmaking, Bangor, Northern Ireland
2013
Parallel Prints Portfolio Presentation – Impact 8 international printmaking conference, Dundee, UK
PUBLIC COLLECTIONS
Victoria and Albert Museum, London
Cary Collection at Rochester Institute of Technology, New York, USA
The Ashmolean Museum, Oxford, UK
The Art Gallery of Ballarat, Victoria, Australia
Tasmanian Museum and Art Gallery, Hobart, Australia
Queen Victoria Museum and Art Gallery, Launceston, Tasmania, Australia
Burnie Regional Art Gallery, Tasmania, Australia
Silpakorn University, Bangkok, Thailand
Whangarei Art Museum, Whangarei, NZ
Kent Print Collection, Kent University, UK
Federation University Art Collection – Ballarat, Victoria, Australia
Jinling Museum of Art, Nanjing, China
Guangdong Museum of Art, Guangzhou, China
Penang State Art Gallery, Penang, Malaysia
National Museum Of Fine Art, Taiwan
Lessedra Gallery, Sofia, Bulgaria
Douro Museum of Printmaking, Douro, Portugal
Durban University – Arts for Humanity Collection
Literature and Arts Department, Heilongjiang provincial government, Harbin, China
CONARTE – Non Toxic Printmaking Museum Collection, Leon, Monterrey, Mexico
Painting and Sculpture Museums Association, Istanbul Turkey
Tolpuddle Museum, Dorset, England
Camberwell College of Arts, London, England
James Wallace Trust, New Zealand
Work held in private collections in New Zealand, Australia, USA, Japan, China and Europe.
AWARDS
2016 Honourary Mention in Experimental Printmaking – IV International Contemporary Miniprint of Kazanlak, Bulgaria
2013 Honourable Mention, Pacific Rim International Printmaking, Christchurch, NZ
2010 First Prize, 9th Lessedra World Art Print Annual, Sofia, Bulgaria
2006 Birgit Skiold Memorial Trust Printmaking Grant
RESIDENCIES
2016
International Artist in Residence (AiR) – Tasmanian College of the Arts, Hobart, Australia
2011
Honorary Artist in Residence Printmaking – Ballarat (Federation) University, Victoria, Australia
Artist in Residence/workshop – PRINT! Exchange Gallery, Penzance, UK
2002 – 2003
Artist in Residence, Surface Gallery, Nottingham, UK
1996 – 1997
Artist in Residence, Kensington and Chelsea College, London
1995 – 1996
Artist in Residence, Intaglio Printmaker, London
NON TOXIC PRINTMAKING WORKSHOPS DELIVERED:
2013
Gainsborough's House, Sudbury, UK
2011
Chisholm Institute, Frankston, Victoria, Australia
University of Ballarat (Federation Uni), Victoria, Australia
West Yorkshire Print Workshop, Mirfield, UK
John Howard Print Studio, Cornwall, UK
2009
Seacourt Print Workshop – Bangor Northern Ireland
EXHIBITION SELECTION PANELS
2015
Member of Selection Panel – First Impressions, National Printmaking Exhibition, NZ
2013
Member of Selection Panel – First Impressions, National Printmaking Exhibition, NZ
2011
Jury Member – Lessedra World Art Print – Sofia, Bulgaria
2010
Member of Evaluation Committee, International Children's Print Show,
Harbin, Heilongjiang Province, China
ARTIST TALKS
2016
Art Forum presentation – Tasmanian College of the Arts, Hobart
Orogeny Print Symposium – key note speaker– Tasmanian College of the Arts, Hobart
2015
Artist Talk – Frome Printmakers – Frome, Somerset, UK
2013
Artist Talk – Gainsborough's House, Sudbury, UK
2011
Public Lecture – Ballarat University, Victoria, Australia
PUBLICATIONS:
Author – Non Toxic Printmaking – (London, A&C Black, 2011) Printmaking Handbook
ISBN – 1408113252
The Harbin Series – (Wharepuke Print Studio, 2011) ISBN – 978-0-473-18818-4
Mark Graver – Paintings and Prints – (Wharepuke Print Studio, 2008) ISBN 9780473124854
ARTICLES AUTHORED:
2015
Parallel Prints – One Exhibition, Two Venues, Twelve Artists – Imprint, Australian Print Council Quarterly Vol 50, No.4 –
2013
Irresistible Quest – Printmaking Today (UK) – Vol 22 No.3
The Search for a Worldwide Acrylic Hard Resist' (with Gerald Ferstman) – Grabado y Edicion (Spain) No. 38
2012
The Search for a Worldwide Acrylic Hard Resist (with Gerald Ferstman) – Imprint, Australian Print Council Quarterly Vol. 47, No.4
2011
Making New Friends in Sofia, Lessedra Printmaking Show, Art News NZ
2010
Harbin Highlights, Chinese Printmaking – Imprint, Australian Print Council Quarterly
2006
Artists Prints and Reproductions – a Need for Definition – Art All NZ # 76, 2006
ARTICLES ABOUT/FEATURED:
2015
Prints in Parallel – Association – Magazine of the Art Gallery of Ballarat, Australia. Spring issue
2013
Art in Print – New Editions – Vol. 2 No.5 Jan-Feb 2013
2009
Art at Wharepuke Gallery – Imprint, Australian Print Council Quarterly
Printmaking Flourishing – Art News New Zealand
2008
Wharepuke Print Studio – Imprint, Australian Print Council Quarterly,
Wharepuke Print Studio – Art All #89,
2004
The English Painter'– Art News New Zealand, winter